Dr. LaSharnda Beckwith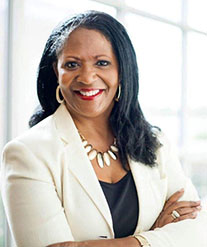 Dr. LaSharnda Beckwith, PhD, MBAA, MA, BPS, is an Empowerment Advocate, personal life coach, motivational speaker & leadership expert and is the new Dean of HIU's College of Business & Management. She loves to interact where she can encourage, enable, empower and energize others. "It's all about relationships," she said, adding that her teaching philosophy is tied to relationship building as well. "I prefer to focus on learning, rather than on teaching. I believe in investing in others, showing them that I care, not letting them slide, and loving them through their challenges." Dr. Beckwith's number one priority is to further the integration of faith with business.
Dr. Beckwith spent more than two decades as an executive with the United States Army & Air Force Exchange Service, most recently as Vice President of Eastern Operations. She also loves teaching, and has served as the Chair of the Department of Business for Southwest Assemblies of God University in Texas, as well as Texas Woman's University, and Embry-Riddle University.
Dr. Beckwith is the President and Chief Executive Officer for Beckwith Leadership Group, a personal and professional development organization. She is also the CEO for her non-profit organization, Professional Christian Women in Service, an organization that supports the needs of women by enabling, encouraging, energizing and empowering women. She is an author and talk show host.
Most importantly, she has been married to Daryl Beckwith for 32 years. They have one son, Brandon, who is a dynamic personality with a great smile, warm heart, and entrepreneurial spirit. She has one grandson, Jaden, who is the joy of her life.