John Derry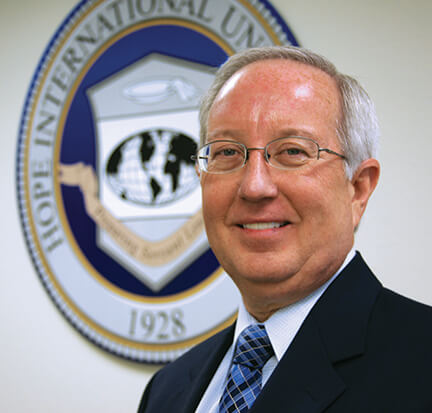 Dr. John Derry is completing his sixteenth year as president of Hope International University. He has also served as president of Dallas Christian College in Texas, as a vice president of Milligan College in Tennessee, and has held church and campus ministries in Illinois. He is a graduate of Lincoln Christian University, has masters degrees from Lincoln Christian Seminary and Western Illinois University, a doctorate in higher education administration from East Tennessee State University, and an honorary doctor of theology from Seoul Christian University. He is an ordained minister with the Christian Churches and Churches of Christ.
President Derry has authored articles and presented seminars and workshops nationally and internationally on various topics relative to Christian leadership and higher education. He has served as an elder in the Christian Church and on the boards of numerous organizations such as North American Christian Convention, Provision Ministry Group, Church Development Fund, Christian Care California, and the Christian Church Chaplaincy Endorsement Commission. Special recognitions include Distinguished Alumnus (Lincoln Christian University), Fide et Amore Award (Milligan College), and Alumnus of the Year (East Tennessee State University).
In the HIU College of Business, Professor Derry has taught courses in strategic management and in non-profit board governance. Under his leadership (after two years of research, assessment, and planning) in May of 2016 Nebraska Christian College merged with Hope International University becoming a branch campus of HIU in Omaha, NE.
Dr. Derry and his wife Jane are members of Eastside Christian Church in Fullerton, CA. They have two children and eight grandchildren. He recently announced his retirement with plans to move to Dallas, TX and spend more time with his family.