Winter 2020 Commencement
109th Commencement
December 12th (Details T.B.A.)
Lawson-Fulton Student Center – Darling Pavilion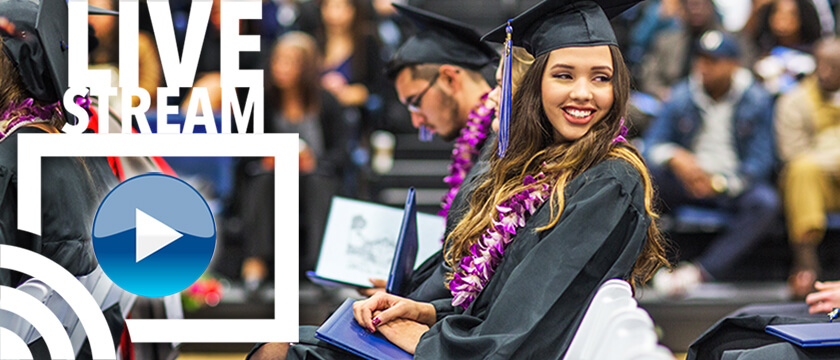 Founded in 1928, Hope International University is celebrating its 108th commencement. The December 2019 graduates come from a global student body of nearly 4,000 students drawn from 42 states and 16 countries. Our graduates embody the University's mission of preparing servant leaders who want to make a positive difference in the world. These individuals join more than 13,000 Alumni who carry Hope International University's legacy of service and ministry to the Church and society. Their achievement has been facilitated by a faculty qualified by both academic credentials and Christian service.
This commencement celebrates Hope International University's forty-fifth academic year in Fullerton. Here, as earlier in Long Beach and Los Angeles, the University has maintained a diligent commitment to advance the mission of Christ.
Doors open for guests at 9AM. No tickets are required, but seating is limited. The ceremony customarily lasts under two hours. Handicapped seating is available upon request and overflow seating with live video viewing access will be provided as needed. To ensure a positive viewing experience for all of our guests, noise makers, and confetti are not allowed in the Darling Pavilion. To watch the Commencement ceremony live via online video streaming, click HERE. (Live event link will be active December 11th.)
---
Commencement Celebration Banquet
The HIU Commencement Banquet will be held on Friday evening, December 13, 2019. Check-in is at 6:00 p.m. in the Lawson/Fulton Student Center, Darling Pavilion. Academic honors are awarded as part of the banquet program. Graduates receiving Masters Degrees will participate in the hooding ceremony at the banquet. Graduates receiving Masters Degrees need to bring their gowns and hoods to the banquet. Banquet invitations are sent to graduates via HIU email. There will be no cost to the graduate for the banquet; family and friends may attend at an additional cost. Attendance is by reservation only and seating is limited. To reserve graduate tickets and to purchase guest tickets, click here, beginning October 21st.
---
Parking
uest parking is available in the HIU Commonwealth Lot, CSUF Lot "S", and in the Theology Institute Lot on Titan Drive.  The HIU Titan Lot is reserved for handicapped parking.  Shuttles are available on a limited basis.
---
Student Information
Graduates need to arrive by 8:00 a.m. Signs will be posted in the Student Center directing you to the ready room. The dress standard for the ceremony is Professional Business Attire. The stage requires the use of steps so please choose your footwear accordingly. Flip-flops are not allowed. If you anticipate the need for assistance or physical accommodations please contact Kim Johnson at [email protected] in advance of the ceremony.
Please do not bring handbags or any other valuable personal items into the ready room. You will not be allowed to carry anything during the ceremony, and the room will be used for overflow seating once you exit. Therefore, please do not bring anything with you except your cap and gown. HIU is not responsible for any lost or stolen items.
At the check in tables, you will pick up your name card. Keep this card with you at all times. During the ceremony, you will hand this card to the announcer, who will then read your name.
A group photograph of the entire class will be taken prior to the ceremony as well as two individual photographs during the ceremony. Graduates will receive proofs of these photographs via email a week after graduation for review and ordering from Ultimate Exposures.
As a service to our graduates and their guests, flowers (including orchid leis and bouquets) will be available for purchase from our on-site vendor, Commencement Flowers. The flower kiosk will be located near the entrance to the student center. http://www.commencementflowers.com
---
Chapel (Traditional Undergraduate Students Only):
Students must fulfill the chapel attendance requirement to participate in commencement ceremonies. Please contact the Director of Campus Ministries, 714 879-3901 x 1294, to ensure you have made arrangements to make up any excused absences.
---
Caps and Gowns
Caps and gowns are available for purchase beginning mid-November at the Hope International University Bookstore; the cost is approximately $45.00. It will be necessary to press the gown with a cool iron prior to the ceremony. Students can order personalized announcements at college.jostens.com.
Masters hoods for graduate students must be ordered by October 15th.
Only University sponsored honors are suitable adornments for your gown. No other decorations will be allowed. Please contact the bookstore at 714 879-3901ext. 1233 or via email at [email protected] should you have further questions.
---
Honors
HIU values the academic accomplishments of our students. In order to ensure recognition of these academic honors, please note the following deadlines. Online undergraduate students receiving honors at Fall commencement must have their degree posted by the Office of the Registrar no later than November 30th. Official grade information for traditional undergraduate students must be received by the Office of the Registrar by December 5th. Please consult your academic coach or advisor for assistance.
---
Coursework
If you are enrolled at another college and taking classes required for your degree, you must submit a letter from your professor(s) on college stationary stating your current grade in the course(s). This report must be turned in to the Registrar's Office by November 5th. You must also request an "official" transcript from the other institution (including CSUF). Your degree will not be posted until we have an official transcript from the other institution's registrar showing the final posting of all your grades and academic credits that are to be transferred.
---
Finances
An approved "Petition to Graduate" and payment of any remaining balance owed by you to HIU is required to participate in the commencement ceremonies. All financial obligations are to be paid by May 5th.
Online and Graduate students who have received Federal Direct Loans will receive an exit packet of loan information, including loan summary while attending HIU and resources pertaining to repayment questions, from the Office of Financial Aid approximately 2-3 weeks prior to commencement. Traditional students will receive an email with instructions on how to complete the necessary exit paperwork to be cleared for commencement. For further information, contact the Financial Aid Office at (714)879-3901 x2202.
---
Career Development
As an alum of Hope International University, you continue to have access to the resources offered to you through Career Development. No matter where you are at in the job search process, we are here to assist you and ensure your success in finding a successful career path. If you are looking for a job, make sure to check out the Career Development Online Job Portal for hundreds of various job opportunities, locally, nationally, and even internationally. If this is your first time logging on to the system, make sure to click the "Click Here to Register" link directly under the Login button. Career Development can help you format and create your resume and cover letter, provide application assistance, and help you prep for upcoming interviews through Mock Interviews. Contact Career Development to make to appointment today at either [email protected] or at 714-879-3901 ext. 1696.