Road to Redemption
Name: Steven James Martin
Current Status: Alumni
Graduation Year: 2006
"Looking back on my life, the thing that surprises me the most is God's grace," Steven James Martin (BS, '06) said. "His grace is His empowerment to overcome and do anything and everything in life."
As a child, God's grace and love is something Martin never thought he would experience. When he was only two-years-old, his mother, a drug addict, abandoned the family and left Martin and his brother in the care of their alcoholic father. When Martin was ten, his father abandoned the boys, and Martin was shuffled between households in three different states. He experimented with smoking, drinking, and sex, all the while trying to find his identity. At sixteen, Martin had three felonies on his record and it looked like he was going to become just another lost teenager. God had other plans. Martin's aunt urged him to attend youth camp at Camp Cedar Crest in Running Springs, CA, and it was there that, finally fed up with the "tragedies" in his life, the 16-year-old Martin accepted Christ.
"As a child I was face to face with alcoholism, drug addiction, abandonment, abuse, suicide, depression, self-mutilation," he said. "Today I am free of any of these things in my life. Because I have welcomed Him in my life, I have also welcomed His grace."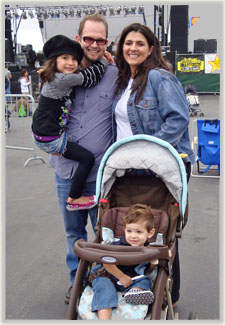 Martin now has a family of his own. He has been married to his wife Melanie (BS '06) for eight years and they have a daughter, Macie (7), and a son, Stellar (3). Martin has dedicated himself to serving God in every aspect of his life, especially through his music. The year after he gave his life to Christ, he went back to Camp Cedar Crest and discovered a passion for worship arts. He was drawn in not only by the songs themselves, but by the way the community drew closer together and to God through the music. He felt called to become a musician, and he pursued his dream by attending the Musician's Institute in Hollywood, CA and attaining a Journeyman's Certificate in "Commercial Music."
He furthered his education by attending Hope International University (HIU) where he received a B.S. in Christian Ministry. In fact, he and his wife both earned their degrees through Hope's online program. Steven and Melanie loved the flexibility and workability of the program, which allowed them to retain their jobs and family life while still pursuing higher education degrees. "I would definitely encourage prospective students to attend Hope," he said. "I really feel that the education that I got from Hope has been foundational in my pursuit as a Songwriter/Worship Artist. Through the years spent at Hope, I have gained a confidence as a believer that is absolutely priceless."
His redemption story came full circle these past two summers when he returned to Camp Cedar Crest to lead worship. Recently, Martin finished a recording project with producer Otto Price, who previously produced the worship band Sonicflood and played bass for DC Talk. Martin also already has a full-length record out. "Outshine" was released on September 2, 2009, and epitomizes his deep desire to encourage others and lead them into a stronger relationship with Christ.
"I hope to impact others through music and my testimony by painting an honest picture of a real God so that all who would listen would find hope to overcome trials and tragedies in life," he said. "But it all starts with giving God the worship He deserves and I want to be a part of that. It does not matter who we are, everyone has to walk through life's storms. But having God on our side gives us strength to endure, overcome and become stronger on the other side."
You can learn more about Steven James Martin by checking out his blog, his artist page on Reverbnation and watching his video, "My Redemption Story."