From HIU to Washington D.C.
Name: Roger Pena
Current Status: Alumni
Graduation Year: 2001
Ever since he could remember, Roger Peña wanted to be a professional soccer player. To that end, he spent four years as the starting goalkeeper at Hope International University, eventually captaining the team his senior year. After graduating in 2001 with a B.A. in Social Science, Peña kept his sights on the soccer field as he pursued an M.A. in Public Administration at California State University Fullerton (CSUF). That's when everything changed.
"After graduating from HIU, I continued to pursue my dream of professional soccer while enrolling in graduate school at Cal State Fullerton. Prior to graduating from Cal State Fullerton, my Political Science Departmental Chair nominated me to be a Presidential Management Fellow (PMF) in Washington DC." Peña said. "Through the grace of God, I was able to find things I was good at that I never thought I was – namely, in the fields of public administration, international relations and comparative politics,"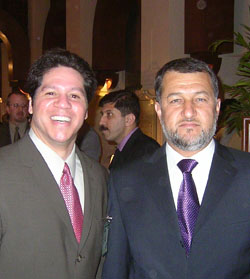 Peña won a coveted PMF spot and traveled to Washington, D.C. to compete as one of 750 winners for one of the 400 available jobs. He submitted 30 résumés and had one job offer, which he took: Middle East Desk Officer for the Department of the Army. From there, Peña's career took off.
He pursued a second M.A., this time in International Policy from George Washington University, and rose to become the Deputy Chief of the Middle East and Africa Branch within the Army International Affairs. He was then appointed as country director for Saudi Arabia and Kuwait in the Office of the Secretary of Defense. Peña is currently serving as the Senior Legislative Assistant for Defense and Foreign Affairs for Democratic Senator Kay Hagan of North Carolina.
Throughout all of his post graduate accomplishments, Peña says he never forgot what he learned at HIU. "Hope International University provided me with the spiritual, moral, ethical, and educational foundation to effectively meet the challenges of the real world," said Peña.
Of all of the positive aspects he listed for the attending HIU, Peña cited the faculty and the athletics department. "Professors at Hope challenged me academically and spiritually, and provided me with orientation and clarity to achieve things I did not believe I was capable of," he said.
Peña added that he was grateful for his time on the men's soccer team because the experience changed his perspective on life. "Sports can be a powerful ministering tool," he said. "The number one responsibility for all students at Hope is to be reflective of Christ. This is deeply embedded within the fabric of the university." That responsibility as well as an understanding of morality is something Peña carries with him every day. "You have to make sure that you uphold the ethical values of this institution in your life," Peña said. "I try to do that."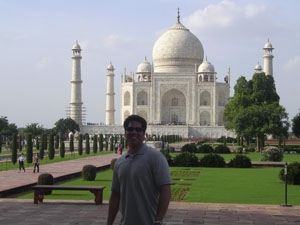 As for current and prospective HIU students, Peña shares his belief that an education at Hope can take you anywhere you want to go. "It is important for students to be aware of different types of professional fields in which they can apply their Christian values while making unique contributions to their communities, their country, and the world."